We are free of charge but before you start please donate $5 to help others! Help us. Make a Difference.
Helping others is the first step in making the world a better place and improving the lives of those who aren't as lucky as you. But it's also shown to bring about a wealth of benefits for those who choose to help and might just be the key to happiness! We are helping all over the world.
In this guide, you'll get a complete answer for the question, "what is organic SEO?"
You'll also find out how does organic SEO work to drive traffic to a website.
The purpose is to give you a good understanding for what is organic search engine optimization and how it can work to benefit a business.
By the end, you'll also know the key elements of a good organic SEO strategy so know what to expect when using this type of search engine optimization to increase visiblility for a website.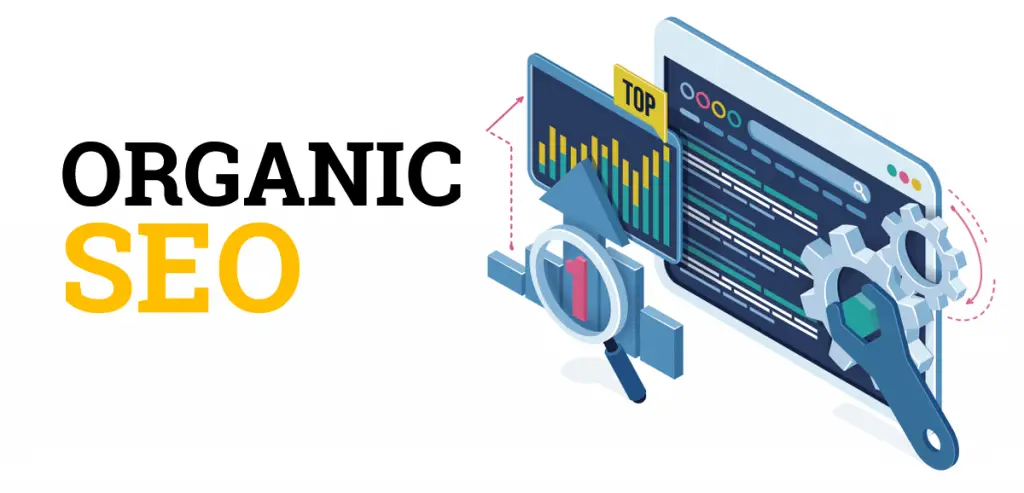 What Is Organic SEO?
Organic SEO is a type of search engine optimization that uses organic strategies to obtain high search rankings on search engines like Google, Yahoo, and Bing. Organic SEO refers to unpaid methods of search engine optimization that include on-page and off-page SEO tactics.
That's the basic definition for what is organic SEO. Next, we'll cover how does organic SEO work, why it's important, and how organic SEO compares to paid traffic.
How Does Organic SEO Work?
Organic SEO works by optimizing a website to rank for specific keywords. Organic search optimization consists of on-page and off-page SEO strategies that improve the relevance for search queries to get ranked higher in the search engines. The process of organic SEO can work for any website to increase rankings.
The basics of an organic SEO strategy include:
Keyword research
Creating content based on relevant keywords
Optimizing the content with on-page SEO
Linking internally with target keyword phrases
Optimizing the meta tags and URL
Optimizing the headers inside the content
Adding keywords to the page content
Optimizing images for SEO
Getting links to the website and individual pages
Getting brand mentions on other websites
Improving page speed and performance
Adding expertise, trust, and authority signals on the website
Why Is Organic SEO Important?
Organic SEO is important because it will generate more clicks to your website from search engines. Organic SEO traffic is also unpaid traffic, so it has a higher ROI than other marketing channels. Therefore, organic search engine optimization is important for any business with a website.
Now, you may be wondering, what is organic search engine optimization going to do for your business specifically?
Here are the top benefits of organic SEO you can expect to receive:
Increased Search Visibility
Organic SEO can increase the visibility of your website on search engines like Google, Yahoo, and Bing. And this is important for getting more qualified leads, customers, and sales for your business.
A BrightEdge study found that organic search drives 53% of all visitors to websites. And according to Hubspot, "75% of users never scroll past the first page of search results."
As you can see, organic search is the dominant source of traffic for most websites and continues to be the most dominant online marketing channel for businesses.
By focusing on organic SEO, you can put your business in a better position to get found online through search. And this works for global, national, and local SEO.
More Brand Awareness
Organic SEO is a great strategy for enhancing brand awareness.
The more times your brand appears in the organic search results for topically relevant keywords, the more people will come to know and trust your business.
Websites that rank on page one of Google, Yahoo, and Bing are considered to be the most authoritative brands in their industry. And that makes it easier to acquire customers for your business.
Long-Term Results
You may be wondering what is organic SEO going to do for your business in the long term?
With organic SEO, the results you get for rankings and traffic can last for many years if done correctly. If your on-page and off-page SEO strategies are done well, it's not uncommon for your website to rank high on the search engines for relevant keywords for several years in a row, if not forever.
Also, if the content you publish provides value and meets the needs of searchers, then Google, Yahoo, and Bing are more likely to increase your position on the search engine results pages (SERPs).
So the organic SEO efforts you put in today can essentially last a lifetime if done correctly.
But with paid ads, your rankings on SERPs stop as soon as you stop paying for them. And to increase your ranking positions with paid ads, you have to pay more money for the cost-per-click (CPC). Therefore, results are not long-term and cost you more money than organic SEO.
High ROI
According to Search Engine Journal, 40% of business revenue is captured by organic traffic, which has no financial cost. Compare that to this statistic reported by Higher Visibility: "the average cost per conversion is $56.11 on the Google Ads search network and $90.80 on the display network."
It's no debate that organic SEO has the highest return on investment (ROI) for businesses of any kind that have a website.
Is SEO Paid or Organic?
SEO is an organic strategy that does not use paid traffic. Ranking a website in organic search with SEO is a free way to get visitors to a website. In contrast, paid SEO refers to pay-per-click (PPC) advertising, which costs money to appear in the search results.
With organic search, businesses use SEO to optimize their websites for increased visibility and rankings in search results. Some businesses choose to do this organic SEO work in-house with their own team, while other companies pay for organic SEO services.
So organic SEO is not paid traffic, but it can come with a cost if you're outsourcing this type of SEO work.
What Is Organic SEO Summary
I hope you enjoyed this guide on what is organic SEO.
As you discover, the basic definition for "what is organic search engine optimization" is that it includes both on-page and off-page SEO methods. And when you combine them, you can increase the visibility of your business through search engines and get more traffic to your website.
Now that you know the process for how does organic SEO work in the real world, you can make better choices on how to use this search engine optimization strategy to grow your business online.